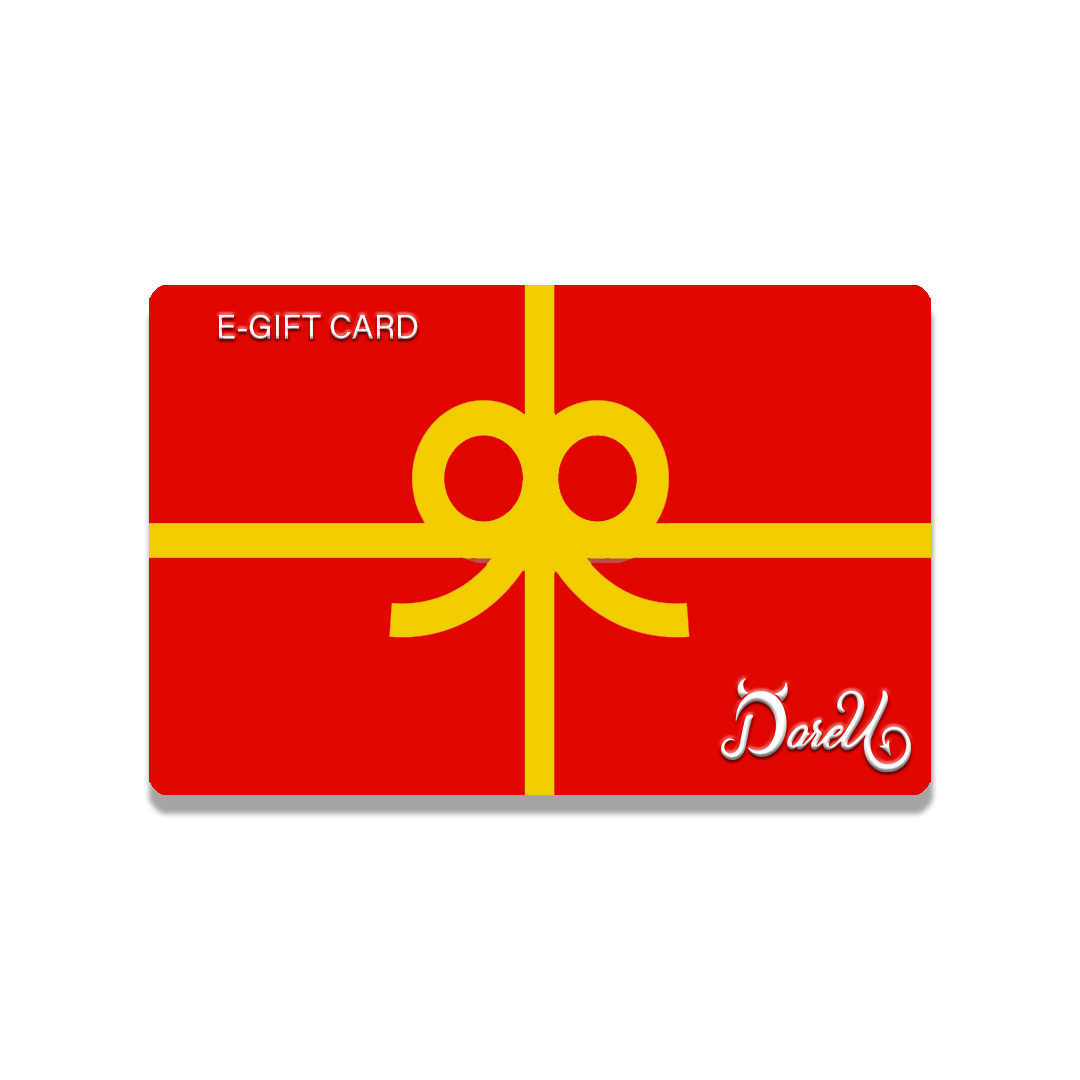 Dare U E-Gift Cards
---
When you fulfill an order with an E-gift card, you will receive an email that contains a unique gift card code that can be used at checkout to redeem its value.
*Note: Gift cards are electronic and will be sent to the email address you place your order with. If you want to buy a gift card for someone else, then you need to forward the gift card email to the recipient.
Daredevil Shopper Experience:
A gift card holds a balance, which can be spent over more than one order. Gift card balances are applied to the total value of an order, which can include taxes and shipping. No Expiration!
Size chart
Bikini Top Fit
| Size | Bust Size (in) | Bust Size (cm) | Cup Size |
| --- | --- | --- | --- |
| XS | 30-32 | 76-82 | A-B |
| S | 32-34 | 82-86 | B-C |
| M | 34-36 | 86-91 | C-D |
| L | 36-38 | 91-96.5 | D+ |
| XL | 38-40 | 96.5-101.5 | C-DDD/F |
---
Bikini Bottom Fit
| Size | Waist Size (in) | Waist Size (cm) | Hips (in) | Hips (cm) |
| --- | --- | --- | --- | --- |
| XS | 23-24.5 | 58-62 | 33.5-36 | 86-91 |
| S | 24.5-27 | 62-68 | 36-38 | 91-95 |
| M | 27-29 | 68-73.5 | 38-39 | 96-100 |
| L | 29-31 | 73.5 - 78.5 | 39-42 | 100-106 |
| XL | 31-33 | 78.5-83.5 | 42-44 | 106-112 |
---
Bikini One-Pieces
| Size | Bust Size (in) | Bust Size (cm) | Cup Size | Waist (in) | Waist (cm) |
| --- | --- | --- | --- | --- | --- |
| XS | 30-32 | 76-82 | A-B | 23-24.5 | 58-62 |
| S | 32-34 | 82-86 | B-C | 24.5-27 | 62-68 |
| M | 34-36 | 86-91 | C-D | 27-29 | 68-73.5 |
| L | 36-38 | 91-96.5 | D+ | 29-31 | 73.5 - 78.5 |
| XL | 38-40 | 96.5-101.5 | C-DDD/F | 31-33 | 78.5-83.5 |
Free US shipping on all orders over $150 | Code: FREESHIP